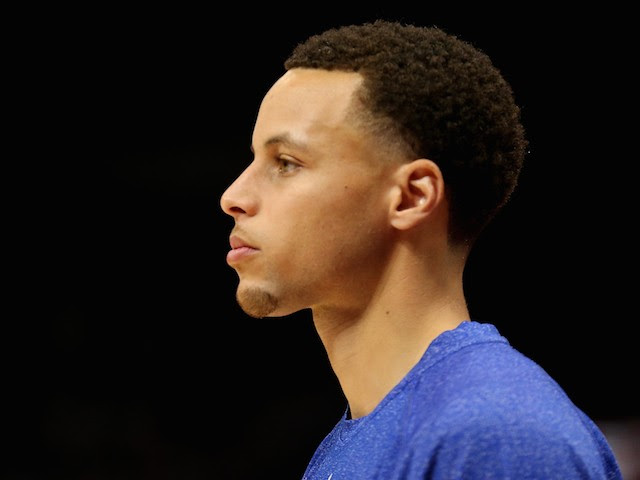 I know what you're thinking, "That's a weird title for this article", right? I mean, why of all people, would Stephen Curry want any sort of revenge? He may have had one of the greatest seasons a professional athlete could have had last season. He was the MVP of the NBA. He was the most popular player (in jersey sales and all-star votes), his team had one of the greatest seasons in NBA history (83 wins regular season + playoffs) that was capped off by winning the NBA Finals, and he turned his family into celebrities (especially his daughter Riley…… & his hot Momma). What more can you ask for? You'd be right to ask that question. He should be happier than anyone can imagine coming into this season, & I'm sure he was. But then a funny thing happened in the NBA right after Curry & his teammates popped champagne in Cleveland's visiting locker room….. 
…… July happened.
Outside of the playoffs, the free agency period in July is the most exciting time of the NBA season, and this past off-season didn't fail to bring the excitement and the drama. The Spurs reloaded with LaMarcus Aldridge & scooped up David West for the cost of a Wendy's Value Meal (at least that's what it felt like). The rival Clippers got back DeAndre Jordan, & picked up Lance Stephenson, Josh Smith, & maybe more importantly, Paul Pierce. OKC retained their free agents (Enes Kanter) + got their superstar back in Kevin Durant. Across the country, the LeBronvaliers restocked the entire kitchen cupboard & the basement with groceries like one of those old Supermarket Sweep shows resigning all their free agents, plus Mo Williams and a rejuvenated Richard Jefferson. Even Houston stole Ty Lawson from the Denver Nuggets for peanuts (depending on if you think adding Lawson was an incredible deal for Houston, which I wasn't crazy about this summer). Once free agency settled down, the rumbles of doubt started vibrating about the Warriors chances to repeat. Adding to that, the NBA Players Association launched their first ever Players Awards show (on BET of all channels) in July. When they gave out their MVP awards, it went out to the official NBA MVP runner-up James Harden, which I guess was fine. What wasn't fine was the general comments from all the players who attended the awards show, "this is the real MVP award", trying to more or less devalue the MVP award that Curry just recently won. An award that's been around for about 50 years. Now if you're Curry, heading into your training for the summer, how exactly are you supposed to feel about this? 
A large part of how an athlete drives themselves is based on challenges and slights. Having to prove you can achieve your goals athletically to yourself first, then to everyone else afterwards. Your peers, your coaches starting from as far back as high school, your region, & the proving net that you cast starts to get wider and wider the more that you grow into your craft. Steph Curry is no different. A son of one of the best shooters in NBA history (Dell), Steph not only had to prove that he was good enough to escape his father's shadow, but because of his slight build, he had to escape the stigma of not being athletic, or big enough to make something out of himself in the basketball world. With only one scholarship offer coming out of high school, he ended up at Davidson, a small, mid-major college program. Within 3 years he became one of the best players in the nation, leading his mid major college to a magical Elite 8 journey in the 2008 March Madness tournament. Once he got drafted in the lottery by Golden State in 2009, he had to prove that what he did in college as well as his size could correlate to the NBA, especially when he was paired in the backcourt with a similarly built Monta Ellis. He fought off the challenges of those stigmas (including from his own teammate), fought of the ankle injuries that plagued him his 1st few seasons & became an all-star level player. By the end of the Warriors 2013 playoff run, Steph had officially arrived under the brightest lights. Whatever doubts he had earlier in his career was erased by coach Mark Jackson, who boosted his confidence like Bhundini Brown used to do for Muhammad Ali. Once the coaching change occurred last year & Steve Kerr took over, Steph's game, as well as his teammates escalated to an even higher level, which resulted not only with all the accolades they could achieve, but also becoming by far the most exciting team to watch in the league.
Now after getting to the level that Steph did last season, how does he continue to get better when he's reached the mountaintop? If you're a self motivator & care deeply about your craft at that level, you will get better. But how do you reach "generational" status? In some case, perceived slights and challenges can account for something. Curry trained to the point that his handles are somehow even tighter, his shot has somehow improved from last season, and he now finishes better around the basket than ever before. When Curry and the rest of his teammates had to hear the comments again in the pre-season that they were lucky to win, & have Harden still talking about how he still feels snubbed for the MVP award five months later, they didn't respond back in the politically correct way, which I loved. Their responses were sarcastic, annoyed, & in some cases "Shots Fired" worthy. You could see the level of disrespect felt in full view, and they made it a point to exact their "It's like that? Ok, well F*** YOU THEN!" Revenge world tour on the league right from opening night. And it hasn't stopped since.
We've seen a great example of this before in this sport. Michael Jordan is the greatest basketball player the world has ever seen in almost all arguments that you want to make, right? In 1995, when he played in the Eastern Conference semis vs. Orlando right after his 1st comeback, Nick Anderson stole the ball from him during the end of Game 1, that helped them lose the game & became a foreshadowing example for the Bulls ultimately losing the series. That summer, after hearing people start to question if Jordan would ever be dominant again, MJ trained maniacally to the point that by August, people who played in the now infamous pick-up runs on the Warner Brothers parking lot (where MJ was filming Space Jam) all swore that he was "back, back". That revenge factor & the playoff failures fueled him to his second 3-peat of the 1990's. I remember that '95 – '96 season when they won 72 games, they treated the contenders & the lottery bound teams with the exact same disdain. They wanted to cut their hearts out as fast and as ruthless as possible, & Jordan was their ringleader in all ways. That ruthless, relentless approach defined that particular season for them. No better example was shown in a loss to the expansion Raptors team. 1st year team from Toronto led by their rookie Damon Stoudemire beating one of the greatest teams ever assembled by one point was an amazing feat. It's a game that still shows on NBA TV Canada every now & again. However, the best part of that game is when Jordan shot a fadeway just after the buzzer, that banked in off the side corner of the glass, a shot that's basically impossible to replicate. Even back then I remember celebrating with my family. Then the shot went in & we all basically yelled out, "Oh f***!", & shaking our heads way after the game was over. It was like in the movies when you jump in the getaway car & start laughing as you drive away from the bad guys, and while you're laughing they still manage to shoot out the back window. No one gets hurt, but it still scares the shit out of you the rest of the drive to safety.
Until this year, I haven't seen a championship level team come into a season with that kind of mindset since the fall of '95. Twenty years later, we have the Warriors getting off to the greatest start in NBA history with no signs of slowing down, and are being led by the reigning MVP who's entering a legendary level that has rarely been seen. Watching Curry play right now makes you feel like he can do anything on the basketball court & it feeds into the mentality of his entire team. He has become the best basketball on the planet at the moment, the most dangerous player to be fearful of at all times, and the most exciting player to watch. Like Bird, Magic, Jordan, Duncan, Shaq, Kobe, and LeBron, Curry has reached a level to watch that's a mixture of awe & inspiration for everyone involved (fans, opponents, teammates, peers). He's also entering the prime of his career, which means barring any injury or unforeseen circumstance, there's a good chance he may even get better than this. He's a point guard who's unselfish but yet is averaging 32 a night, almost 3.5 point per game higher than the 2nd place leader (Harden, 28.7 PPG). Throw in his other stats (6 assist, 5 boards, 2.6 steals, just under 5 three's made a night, 33.76 PER, 51% FG/43 % 3P/94% FT), and his level of play is becoming artistic. After every game, you almost want to hang his performance on a wall & just stare at it with your head tilted to the side.
While its still too early to say they will win 70+ games, I do think this will be the first team to actively try for that record, no matter what they say publicly. Their core is still so young that they can throw caution to the wind, go after every record, & not worry about sacrificing wins to rest their guys. More importantly, they know how to win games in any situation, & are playing free without any limits of fear because they can lean on their championship experience. They are not taking their defense of their championship lightly, & healthy permitting, whoever takes that trophy from them will have to pry it from their hands. But so far, they are well on their way to bringing a 2nd title back to the Bay if this revenged intensity keeps up. As a sports fan, no matter how many wins they get, we need to enjoy the journey that Curry and this team is on right now, because it's rare that you see a vengeful journey look this sweet.
Sideline Notes
At this time, I'd like to send a shout out to my friend Luugi. Out of all my friends, he's the one that gets his rocks off on watching teams implode, crash, and burn internally. This past summer after watching some of the off-season moves go by, I decided to buy into his Trainwreck watching way of life. I think we can all agree that going into the season, Sacramento would have qualified for the #1 seed. DeMarcus Cousins + Coach George Karl are bad enough, but then you add Rajon Rondo to the mix? This team is so talented and volatile, can grab the 8th seed in the West, or they can win 25 games & daily fist fights could go down in the locker room & I wouldn't bat an eye either way. Then I started watching the Lakers situation. They have some young talent but added a weird mix of vets that don't gel together (you really thought adding 6th man gunner Lou Williams with Nick Young was a good idea when you have rookies who needs minutes & shots Lakers management???), plus, you know….Kobe. Mix that up with coach Byron Scott who's still clinging to his old school coaching ways (surprised he doesn't have Roy Hibbert laying guys out who try to make a layup), I had to upgrade them to Trainwreck status. You know that story will be more disastrous with each passing day, especially when D'Angelo Russell keeps getting nailed to the bench during 4th quarters………
You know who's my underdog Trainwreck squad to look out for? The Houston Rockets. Not only did they get their coach Kevin McHale fired with their dog-shit effort since the season started, but I truly don't believe in James Harden & Dwight Howard as leaders on your team. Now some veterans in the locker room (i.e. Jason Terry) may have a strong voice in the locker room, but in basketball, you only go as far as your best players take you. At least it's better that way. While I've voiced my opinions of D12 in the past, I think Harden is a great, great talent. However, the whole, "move out of my way while I play Iso ball for 1/2 the shot clock, put it between my legs 4 times before I shoot this step back J" offense doesn't lend itself to any kind of real continuity between the players. Regardless of how I feel about Dwight's offense & the fact that he genuinely seems broken down, he's got to shoot the ball more that 8-10 times in a game. It doesn't matter that McHale is gone, the philosophies (especially on offense) are still the same under the interim coach, J.B. Bickerstaff. Personally, I don't see this downward spiral changing anytime soon………
I'll say this: you know when Houston takes over the #1 spot on my personal Trainwreck rankings? When they lose tonight vs. the 76ers. #BoldPredictionoftheWeek………
By the way, if that prediction comes true, I think my friend Luugi will be happier than the men who find out they are not the fathers……… 
R.I.P Kobe Bryant's career. It was a great ride, & he will go down as one of the 10 greatest players I've ever seen in person. One thing about great players in any sport is the struggle of knowing when to say when, especially before anyone one else sees your demise. The confidence in their own abilities that gets them to unbelievable heights as an athlete is viewed as their biggest strength. Once you get older, all of a sudden, that same stubborn belief becomes their greatest weakness when their body officially fails them & they still believe that they can get the job done. Forget the stats (averaging 15.2 PPG on 16.4 shots, shooting 31% from the field), Kobe can't get by ANYONE anymore on drives or create any space on his jumpers. That's only going to get worse unless he gets on the HGH workout cycle in the next week or so. Remember when Mariano Rivera played his last game & before he can get the save, Derek Jeter & Andy Pettite walked out to the mound & gave him the pat on the back? & then Mariano started bawling on their chest? I'd like Magic Johnson to walk onto the middle of the court during the 3rd quarter of some game in March, hold Kobe by his shoulders & tell him, "It's time. Time to come on home son," while Kobe starts sobbing into his suit jacket. It's time Kobe. Let's remember you in a good light, & please let this be your last season & not find you next season wearing # 24 for the Grizzlies or something. Please end this Kobe……please……. 
Cal Cee // South Shore Ave
To subscribe to The Baseline Blog, click onto the Follow button or by entering your email address.